Adapting with a changing environment
Non-violent crimes swept under the rug
This section includes months of reportage in San Francisco's Tenderloin district, which neighbors Market Street, a large tourist attraction that is also riddled with alarming rates of violence, homelessness and long-time residents seeking change in the community.
Tenderloin honors historic trans civil right movement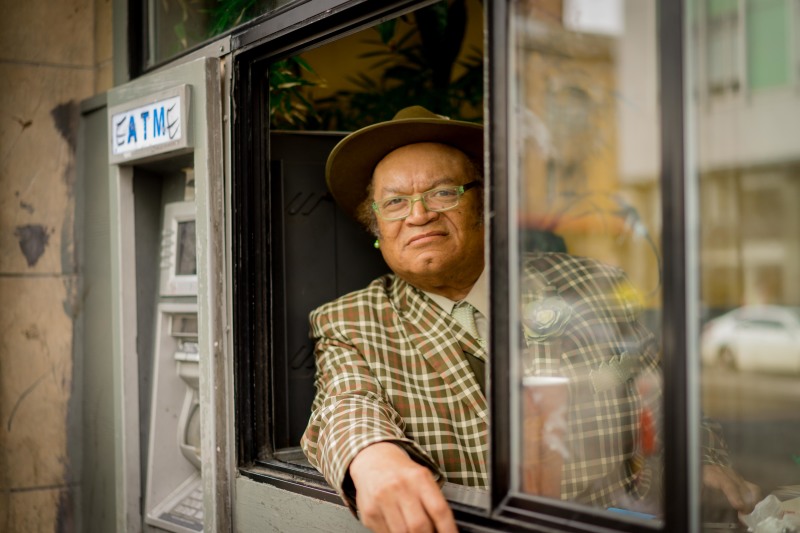 We aren't millionaires, not by far," said Fisher. "But we are working on a project right now that is going to help the people first and help us second.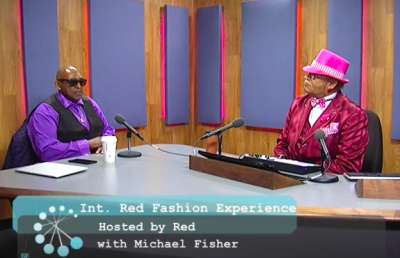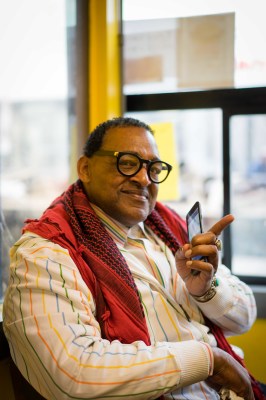 Michael Fisher poses for a portrait inside Happy Donuts on 6th Street in San Francisco

With a plethora of new and old faces in his iPhone camera roll, Red utilizes social media platforms, such as Instagram and Facebook to promote his fashion apparel. Across from the table sits Michael Fisher, who founded the public access television show,  People Behaving Proudly, which airs every Wednesday at 3 p.m. on Channel 29. At first glance, the pair are noticed for their vibrant fashion sense but ultimately remembered for their inviting personalities.


Happy Donut employee, Sopheas Nok, regularly serves the two a southern style meal from the donut shop's unexpected menu. Nok can rely on Fisher and Red to show up on a daily basis and take a seat in their designated table closest to the window for prime exposure.


Nok, who has known the men for nearly two years, says their unique style brings a variety of customers into the small donut shop. "When they're here, they actually attract customers for us," said Nok. "They're always in suits and it makes people feel more comfortable when they come in."


In 2015 Fisher and Red joined the Fillmore Bay Area Media Group, after being noticed by longtime friend and TV Producer, Ken Johnson. "They have that special something that holds your attention and they're trying to do positive things in the community," said Johnson. "When I come across some friends who have potential, I immediately I see it."


And Johnson immediately wanted to test the potential he was working with. It started at Macedonia Missionary Baptist Church on Sutter Street, where Fisher conducted his first unrehearsed interview with the Reverend. This moment led to the development of his show People Behaving Proudly, which is a wide-reaching podium of commentary on the San Francisco housing crisis, fashion, profiling, politics, music and the changing atmosphere of street life within the community.


"We have a lot of good people in this town too, they're not all bad," said Fisher in response to the KRON4 show, People Behaving Badly. Fisher pursuit began with wanting to stop televising people's wrongdoing and instead, televise their rightful deeds. "My concept was to get these young folks and put them on my show," said Fisher. "They're going to be seen as people who are behaving proudly, not badly."


But during filming at SF Commons Studio, Fisher endured a sudden shift that threatened the safety of himself as well as his family. Fisher struggled to find housing with his daughter and granddaughter after being forced out of section 8 housing, explains Red. "66 years he'd been in San Francisco as a native and he could not get a spot," said Red.


As the video camera rolled, Fisher stood near a homeless encampment and pointed to what would be his new spot on the street. This experience led to the creation of the episode, "From the Door to the Floor Pt. 1," which aired on August 23, 2016. "I'm from that door of the house to the floor on the ground," said Fisher who is now living with family.


Fisher and Red share their secret, that each episode idea is based on personal experience. "We take stuff that happens to us and turn it into a show because we learn from it," said Red who moved away from Las Vegas 16 years ago.
"I got away from all the negative people I was around and positive things started happening for me."

Red expresses his optimism by styling and profiling on his show, Int. Red Fashion Experience, which airs every Wednesday at 3:30 p.m. on channel 29. "My concept is about fashion. When you look good you feel good," said Red who was previously a fashion coordinator. P
roviding people with clean suits, ties, and shirts to attend interviews was Red's way of giving back to his community.
​

Although fashion is a major aspect, Fisher believes the act of giving is far more significant. "When I was selling watches he use to buy stuff from me and always give me a word of encouragement," said Red. "What really amazed me was that one day he gave me a pair of 500 dollar alligator shoes." This gesture was the beginning of a five-year friendship.


On 6th Street and throughout surrounding boarders of the Tenderloin district, a sense of unity is present on the streets. As Fisher and Red roam the sidewalks, heads turn as people wonder what these men are up to next. "We aren't millionaires, not by far," said Fisher. "But we are working on a project right now that is going to help the people first and help us second."


There's so much of this helping narrative around blindness but people are totally self-sufficient and only need to be taught the mechanisms to do things a different way.
It's a dropping off spot," said Mateo, who has been in and out of the prison system since 1992. "It's a containment area, kind of like they let things [crime] happen here.
You should always stand up for the rights that you believe in," said Lavale-William Davis. "Especially when you're being treated unfairly.
Robert Red peers out the window of Happy Donuts on 6th Street in San Francisco, right before jumping out of his seat as if he recognized an old friend. He slides the window open just enough to stick his head out and holler, "Hey you, come here!" The estranged woman glances his way, and then hurries along her route. "She'll be back," says Red as he puts his compact selfie stick back into his jacket pocket.
​​
A woman navigating with a white cane and her pint-sized guide dog, trek up the slippery steps of Civic Center Bart Station. As the cold rain hits her face she says to her companion, "looks like we're taking the shit escalator again," referring to the one that regularly goes out of service.
​
What may be an ordinary series of events in San Francisco can cause public areas to be less accessible for those who are blind or have low-vision. According to the American Foundation for the Blind, 2015 research shows the prevalence rate of vision loss in California affected a total of 768,267 people but currently, there is no available research to represent the blind community living in San Francisco boundaries.
​
​​
Robert Red, known as "International Red," poses for a portrait at Happy Donuts on 6th Street in San Francisco, Wednesday, Feb. 1, 2017. (Photos by Sarahbeth Maney)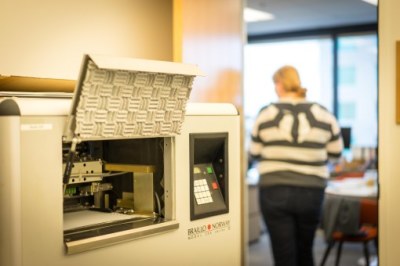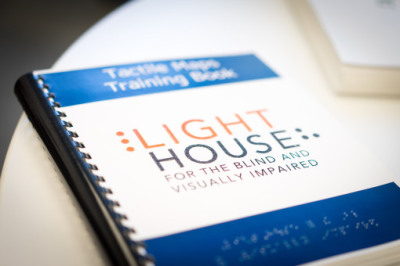 An open book at the Lighthouse in San Francisco includes text and braille for visually impaired individuals

Serving over 800 participants, the Lighthouse for the Blind and Visually Impaired is located on 1155 Market Street and shares a sidewalk with the Civic Center Bart Station for an easy transition from public transportation.

The Lighthouse offers educational opportunities by familiarizing people with tactile maps, which are made up of raised surfaces to translate information. The high-contrast textured maps are first designed on computers by experts at the in-house Media and Accessible Design Lab (MAD Lab) and fully produced in the braille room.


Alternate media specialist, Frank Welte, has contributed to working models for sex education, university campus maps and even a 3-D model of a worm. "A lot of people do their maps by hand," said Welte. "We're kind of unique because our maps are in full color, along with having braille and tactile lines on them."


One-on-one orientation mobility classes take place in the building's 11th floor glass-boxed conference rooms, where instructors train those with low-vision how to read a map by using a thick, spiral bound training book.


Carey Milliron, an accessible media specialist, says training provides a sense of independence. "By using the training book and using the information on the maps gives blind people a little more freedom to get around," said Milliron. "They can choose the Bart station they use everyday and it allows them to understand the space."


Shane Lopes, 21, toured the Lighthouse for a weeklong immersion program, where he was shown different devices and provided new methods to cope with blindness. "You're always learning things when you go there," said Lopes. "I got to meet a lot of people and hear other perspectives and techniques of doing things."


Lopes primarily uses Google Maps and other navigational apps due to their convenience. Recently, he has started to utilize tactile maps and believes they serve a helpful purpose. "If I were to look at Google Maps it's not as easy to get a feel for where you're located," said Lopes. "There is going to be little errors and glitches, especially in the city where people are using their phones all the time and signals get crossed."


MAD Lab Program Coordinator, Maritza Calderon, is excited about their newest "T-map" project, which has yet to be released to the public. "This is the quickest, dirtiest to-go map," said Calderon. The handy 11-inch by 11.5-inch sheets of paper layout a few busy blocks in San Francisco, such as 6th and 7th streets where technology may fail.


The small team of eight experts working to design these educational maps is compiled of those who are both sighted and visually impaired. Camilla Sterne, who is a producer in the communications department, admires the projects her co-workers are able to execute.


"They're one of the few places that are doing that kind of work," said Sterne. "There's so much of this helping narrative around blindness but people are totally self-sufficient and only need to be taught the mechanisms to do things a different way."

A training book is used to teach on tactile maps

A list of non-violent crimes recorded by Bushra Alabsi outside of the Cross Culture Family Center

The Tenderloin neighborhood has the highest district crime rate in San Francisco, compacted in a 50-block radius. Residents are having a difficult time believing this containment zone was created by nothing other than design.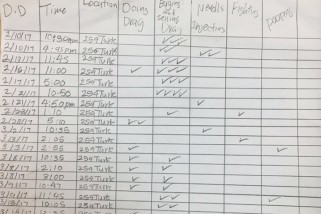 Bushra Alabsi is all too familiar with the non-violent crime on the streets, because they occur on the front step of her childcare center. Often times she peeks outside her office door and dials the Tenderloin Police Station to report crimes but tries to remain low-key, hoping her face is not recognizable.


"It's everyday, maybe every 15 minutes," said Alabsi. "If they don't do injections, some of them pee and poop."
At the end of her workday as a center manager at Cross Culture Family Center, Alabsi takes on the responsibility of doing the clean up herself. She kicks used needles far enough from the walking paths of children and scrubs the defecated walls with bleach and water.


Police Chief Teresa Ewins responded to Alabsi's vivid scenario during the Tenderloin community meeting in March. "It's unacceptable these people are shooting up by a school," said Ewins. "Its unacceptable that you have to see that and the kids have to see that– plain and simple."


Ewins suggested a variety of services to elevate the issue of public drug use. "We'll have our department of public health come out, we have a hot team," said Ewins. "We have a lot of different connections."


But even Ewins admitted to the undeniable containment of the area, referring to it as, "playing a game of whack a mole." Once a person is moved out, they pop up again and again.


After five short months of living in the Tenderloin, Bettina Mateo has noticed the area's stagnant effect.

"It's a dropping off spot," said Mateo, who has been in and out of the prison system since 1992. "It's a containment area, kind of like they let things [crime] happen here."


Mateo's adjustment following recovery was unlike most because the influence of drugs was at her fingertips. "I don't feel like a victim here because I surely could have made a different choice," said Mateo. "It's a challenge but there's a choice and an outcome."


Now Mateo is working as a crisis responder for the nonprofit organization Concrn, which deescalates situations to reduce hospitalization and incarceration. "We have an app or you can call us," said Mateo. "We show up before the police show up."


Due to ongoing violence in the district, the police prioritize responding to dangerous and violent crimes. According to SFPD reports, violent crimes including robbery increased by 9 percent between January 2016 and January 2017. "The more people we have moving around, the less we are going to have issues on that block but we can't have an officer on every block," said Ewins.


Fonda Davidson has been in the community 20 years, working as an executive director for 13 childcare centers in low-income areas. Davidson says a stronger police presence can protect children and families who are subjected to non-violent crimes in their daily lives.


"We would like to have police presence so these families and their children can feel safe and feel that the police are supporting the community who lives here," said Davidson.


With the developing discussion of a safe-injection drug site (SIF) making its way into the Tenderloin, Ewins was unable to publicize her position but residents did not hold back from voicing their ideas.

"I think it is something probably worth trying out here in San Francisco," said Davidson.

Global drug policy reports suggest SIFs have been effective in reaching a target population, improving health, service uptake and reducing infectious disease, overdose and crime.


According to a European report on drug consumption rooms, "a study of 18 facilities in Germany found that while 64 percent of respondents claimed to inject most frequently at SIFs, 38 percent of interviewees admitted having used drugs in public in the previous 24 hours."


While SIFs may resolve some of Alabsi's concerns with public drug abuse, she is unsure about the process but hopeful it could make a positive impact for the well being of her students. "It would be safe for us and for the person who is doing it," said Alabsi, as embraced her children with hugs. "I think it could be better but I'm not quite sure."


Actors perform the interactive play "The Compton's Cafeteria Riot," for the first time at the Tenderloin Museum in San Francisco
A ceiling installation outlines boundaries of the Tenderloin neighborhood

ALavale-William Davis plays the role of Nicki in the Compton Cafeteria Riot interactive play
It's 1966 and you're sitting in Gene Compton's Cafeteria, the first diner in San Francisco to welcome people who openly identified as transgender. Audience members occupied each seat in the room, envisioning themselves sinking into a booth table at the antique diner where the first militant resistance by the queer community in the United States took place.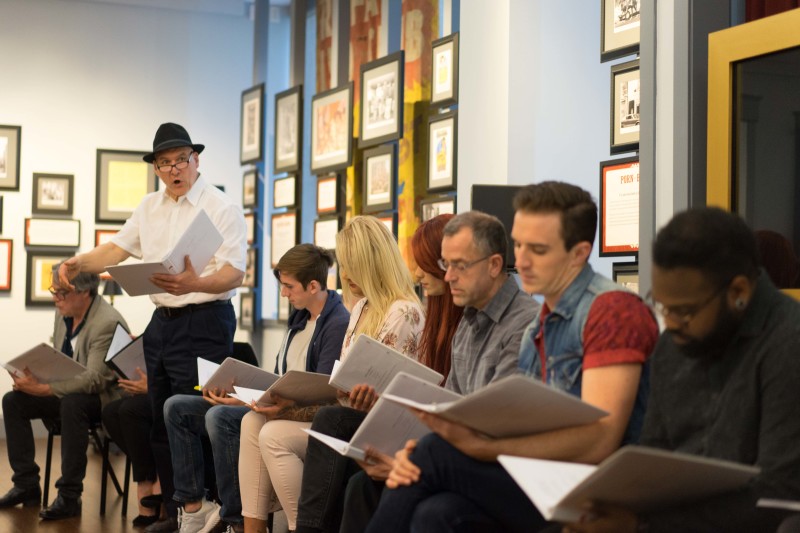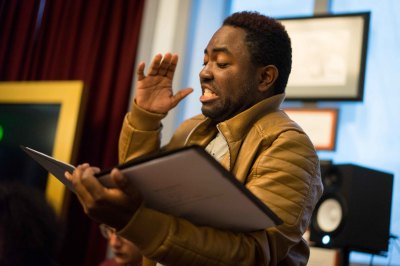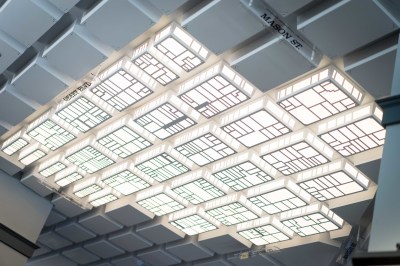 Michael Fisher (left) and Robert Red (right) speak on their talk-show
​​
​In late January, District 6 Supervisor Jane Kim announced her plans to create the world's first official transgender district in the heart of San Francisco, which is projected cover southeastern boundaries of the current Tenderloin District. By changing the name to Compton's Transgender, Lesbian, Gay and Bisexual District, officials hope to honor the trans civil rights movement that originated from the 1966 Compton Cafeteria Riot.
​
Collette LeGrande, a well-known drag queen in San Francisco, vividly recalls her earlier years dining at the Compton's Cafeteria. "In those days we were hookers just trying to get a date," said LeGrande, as she laughed at her recollection. "This guy drove us about two blocks before he recognized my friend who had stolen his wallet when they got together. He pulled a gun and put it right to her head, I jumped out of the car and I ran."​​

LeGrande's story caused uproar of laughter from the crowd, as members on behalf the Actors Equity Association portrayed the rolls of eight young queens, an officer and restaurant employees from the perspective of LeGrande and Donna Personna. The interactive play titled The Compton's Cafeteria Riot, written by Mark Nassar, was conceived for the first time on Saturday, as part of Tenderloin Museum's 2nd Anniversary celebration.

Debra James, who moved to the Tenderloin district in 1990, was impressed by the overall performance. "The actors portrayals were realistic and down to earth," said James. "Although it was the first draft, I'd like to see it again once it's in a theater."
​​

Nassar's inspiration for the play stemmed from watching Spike Lee's film, Do the Right Thing and Victor Silverman's documentary, Screaming Queens. "Every piece of history that we had, we put into this," said Nassar who incorporated his own twist of comedy and drama into the script. "People have to understand what the environment was like and that human beings can only take so much."


This world-shaking wave of transgender activism began when the community refused to tolerate police harassment based on their appearance and self-defined sexual identity. Officer Johnson, represented by actor Tim Huls, was described as a "hard ass," who initiated his power by mocking people with crude and demeaning jokes.


Due to the constant harassment and infliction of fear, most gays stayed concealed until it became dark outside, according to the documentary Screaming Queens. When the sun went down, the seams of Turk and Taylor streets unraveled into a busy nightlife scene of prostitutes, gamblers, drugs and trans women, formerly referred to as queens. Despite strength in numbers, female impersonation was illegal in San Francisco and anyone who appeared to meet the criteria faced the risk of being arrested.


The earliest anti-cross-dressing laws began in Columbus, Ohio in 1848. According to PBS, "the law forbade a person from appearing in public 'in a dress not belonging to his or her sex.'" Over 40 cities in the United States followed this structure and created similar laws that limited freedom of expression through clothing and makeup.


Katie Conry, who is the executive director at the Tenderloin Museum located on 398 Eddy Street, says Compton's Cafeteria was one of the only safe places for transgender people to gather and dine. "It was still illegal to not dress as your gender identity by birth," said Conry. "One of the only places the queens could hangout was the Compton's Cafeteria."


With nowhere else to go beyond the havens of 24-hour cafes, cheap hotels and inside the cabs of random men, the Tenderloin's young queer runaways banned together to create the Vanguard organization. Vanguard, which began in the 1966, was the nation's first gay liberation organization, according to historian and journalist Joey Plaster.


Vanguard's statement of purpose reads, "Vanguard is an organization for the youth in the Tenderloin attempting to get for its citizens a sense of dignity and responsibility to long denied... We find our rights as human beings scorned and ridiculed. We are forced to accept an unwarranted guilt, which is more the product of societies hypocrisy than scientific fact… Vanguard is determined to change these conditions through organization and action."


Along with continuous harassment, police brutality and violence, those who were gay or transgender were also denied numerous job opportunities. This theme appears in Nassar's play when the character Young Vicki is fired from her managerial position at Levi Strauss Company after a jealous friend reveals her sexuality.
​
To combat the issue of discrimination in the work place, the Vanguard held a street sweep demonstration on Market Street in response to police street sweeps that targeted street youth and renovation. The gesture also suggested trans youth had the ability to contribute to society and fulfill the position of a regular job.


Lavale-William Davis portrayed the character of Nicki, a transsexual prostitute in her thirties who lives on the street and is rough around the edges. Despite Nicki's circumstance, she gave a voice to others by starting a petition and defending herself against Officer Johnson. "You should always stand up for the rights that you believe in," said Lavale-William Davis. "Especially when you're being treated unfairly."


During that special summer night, a revolution was born and it began with a voice, and a porcelain cup of hot coffee that scorched the face of a police officer. "Today everybody is very complacent because now you don't have to worry about things that like anymore," said LeGrande. "But in those days it was a whole totally different life."


​Tenderloin tour guide and educator, Pam Coates, does not mind the upcoming name change of the district and finds it to be suitable. "It's only a name and Compton's is part of the history," said Coates. "We actually live life here so whatever we call it, it's still home."